Fair Trade Outsourcing's Year in Review
For Fair Trade Outsourcing, the past 12 months have brought many challenges to its operations. Its ability to quickly adapt to changes was tested.
Dealing with uncertainty can be tough, but we were able to overcome the challenges because of the strong relationships we have built with our clients and our employees. Rather than dwell on the negatives, let us look back at the year that was and celebrate our achievements before we usher in a new year.
JANUARY
Fair Trade Outsourcing Started 2020 with Industry Breaking Stats
Fair Trade Outsourcing has always been proud of its monthly stats, with less than 1% in error rate and less than 2% attrition rate for accounts with stable work schedules. Going into 2020, we're proud to announce that we were able to maintain a site-wide attrition rate of less than 4%, which was quite low considering that the BPO industry average has been more or less 10%.
FEBRUARY
Benchmark Portal Interviewed Fair Trade Outsourcing CEO, Mike Dershowitz, on Living Wage Vs. Market Wage

Mike Dershowitz, CEO of Fair Trade Outsourcing, and Bruce Belfiore, CEO of Benchmark Portal, discussed the differences between living wage and market wage, and the human and political elements that push toward offering "living wage" compensation. Listen to the podcast here. For more insights into Mike's thought processes, read his LinkedIn article.
MARCH
FTO Protected Employee Health and Safety During Enhanced Community Quarantine
Fair Trade Outsourcing responded in time before the Enhance Community Quarantine (a shelter-in-place order by the local government) in Iloilo City, Philippines started. We had our agents billeted at a hotel, along with their families, to make sure they are in a place that's safe, sanitized, and comfortable. During their stay, they were provided with daily meals and laundry service, private transportation, daily check-ups, free face masks, and other benefits.
APRIL
Fair Trade Outsourcing Opened Its Bacolod and Davao Centers
On Sunday, April 19, Fair Trade Outsourcing started its operations in Bacolod City, Philippines at a 150-seat capacity facility. It's the third contact center of FTO in the Philippines. The second facility is located in Davao City, which began its operations in March.
FTO Adopted an Online Recruitment Strategy
Fair Trade Outsourcing has implemented an online recruitment strategy. The recruitment process now starts with job ads on Facebook, which leads applicants to an online recruitment tool developed by the FTO software team.
MAY
FTO Continues to Outperform Industry Rates Despite the Ongoing Crisis
Fair Trade Outsourcing recorded the lowest daily absenteeism rate in 2019 at 2% more or less. During the pandemic, this was reduced further to 1.2% — a remarkable percentage considering that we tripled our workforce in the same period. This is being consistent with the performance of the Fair Trade Outsourcing model, which brought in the following 2019 stats.
JULY
FTO Garnered a High eNPS Score Among Its Employees
Fair Trade Outsourcing recently surveyed its employees and asked them to rate their level of satisfaction on different aspects of operations. As of June 2020, FTO has garnered a highly encouraging Employee net Promoter Score (eNPS) of 57% from its workforce in Iloilo City. These are the employees who rated the company's overall operational performance a score of 9 or greater.
FTO Listed in IAOP's Impact Sourcing Champion Index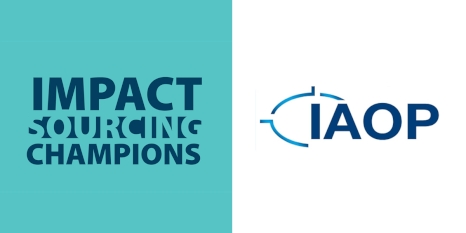 Fair Trade Outsourcing has been recognized by IAOP as an Impact Sourcing Champion in its inaugural list of companies that have distinguished themselves as trailblazers in Impact Sourcing. Check out the full list of Impact Sourcing Champions here: https://www.iaop.org/ISChampionsIndex
AUGUST
FTO Gave Away Quarantine Care Kits to Employees in the Philippines
Fair Trade Outsourcing distributed care kits to employees in all its Philippine sites. Distribution was done on the same day in Iloilo City, Bacolod City, and Davao City. The company-wide event was overseen by interim site managers in every site.
Each person received 50 pieces of medical-grade face masks, a glasses-type face shield that covers the whole face, and a bottle of rubbing alcohol for their personal use. These items will not only help reduce the risk of them getting sick, they also help our employees adhere to mandatory healthcare guidelines. This initiative shows we are strongly committed to making our employees' health and safety a priority in our organization.
SEPTEMBER
New FTO Center in Mexico Started Operations in September
Fair Trade Outsourcing opened a new facility in Guadalajara, Mexico on September 7th. It has a capacity of up to 420 jobs to serve nearshore accounts while also accommodating current client growth and providing new opportunities for servicing emerging markets. Operations at the new center in Mexico will be led and managed by Mr Aldo Zuniga, who has nearly 10 years of BPO experience.
Mike Dershowitz Interviewed John Mackey, Author of "Conscious Leadership"
On September 24th, Fair Trade Outsourcing CEO and Founder Mike Dershowitz had a great talk with John Mackey, CEO and Co-Founder of Whole Foods Market. They discussed John's new book, Conscious Leadership: Elevating Humanity Through Business, and delved into topics related to social entrepreneurship.
The interview was part of the Philadelphia Chamber of Commerce' series "Defining Innovation" which tackles topics on leadership, innovation, and social entrepreneurship. The event was sponsored by Fair Trade Outsourcing.
OCTOBER
FTO Opened 2nd Center in Iloilo City, 4th Site in the Philippines
After four years, Fair Trade Outsourcing has opened a second center in Molo, one of the largest business districts in Iloilo City, Philippines. At our new center, Fair Trade Outsourcing continues to provide quality customer service, data entry and acquisition, desktop and IT support, and back-office support.
FTO Sponsors Philadelphia Chamber of Commerce Annual Meeting
Fair Trade Outsourcing proudly announced its sponsorship of the Chamber of Commerce of Greater Philadelphia's Annual Meeting, which was held virtually on October 29, 2020, Thursday. Maya Martinez-Davis, President of GlaxoSmithKline, and Valerie Smith, President of Swarthmore College were the featured speakers.
DECEMBER
PACE and FTO Present "Scaling in Times of Crisis" Webinar
Fair Trade Outsourcing partnered with PACE (Professional Association for Customer Engagement) in presenting a webinar that's quite pertinent to our times. The webinar, "Scaling in Times of Crisis," was presented by Fair Trade Outsourcing's CEO and founder, Mike Dershowitz, on December 8th, Tuesday. This virtual event was open to PACE members and the public.
FTO Held First Virtual Year-End Event
Every December, employees and the company's top executives come together to celebrate the season of gift-giving and thanksgiving. Because of the ongoing quarantine rules and the threat of the novel coronavirus still looms ahead, Fair Trade Outsourcing has organized its first virtual year-end event, which was streamed live through Facebook.
Rather than splurge on food and drinks, the company organized a countrywide raffle for its employees in Iloilo, Bacolod, and Davao. Afterwards, groups from each Philippines center as well as from our center in Mexico sent everyone their holiday greetings through pre-recorded videos.